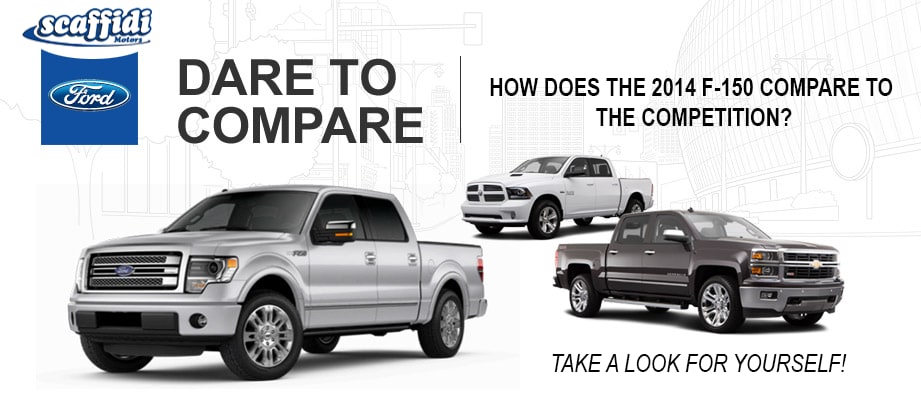 2014 Ford F-150



  
 2014 Chevy Silverado 1500

 




302




 

Horsepower

 285
 


278 lb-ft




 Torque
 
269 lb-ft



3.73


 Standard Axle Ratio


 3.21
 


66 cu. ft.




 
Truck Bed Volume


 58 cu. ft.

 2014 Ford F-150
 

 

2014 RAM 1500 

302
     
Horsepower 
305 
 
278 lb-ft


Torque 
 269 lb-ft

3.73
 
 Standard Axle Ratio
3.21 

66 cu. ft.
 
 Truck Bed Volume
58 cu. ft. 
 

Ford F-150 vs. Chevy Silverado vs. Ram 1500

  

When there's work to be done, deciding on a pickup truck is no light matter. The considerations you'll need to make are many and will varied to your personal needs, but it's good to get a few basics squared away. This comparison shows how the 

2014 Ford F-150

, one of the leading pickups in America, stacks up against the Chevy Silverado 1500 and the Ram 1500, two other heavy contenders in the field. All comparisons are based on the 2014 Regular Cab models of each truck, and with the V6 engine and 4-wheel drive.





The Ford F-150 takes the Chevy Silverado to task in the horsepower arena, but doesn't have quite the same advantage when it comes to torque. On the other hand, the opposite hierarchy can be seen when comparing the Ford F-150 to the Ram 1500. The Ram ekes out a small lead in horsepower, but the F-150 comes up stronger on torque. As for standard axle ratio, we see that the Ford F-150 comes in at 3.73, giving it an advantage over both competitors when it comes to power in low-speed situations like towing a load.

 Over 40 New F-150 models in stock!

Click Here to view our inventory.
  

Ford F-150 Takes on the Competition

When it comes to hauling in the truck bed itself, the Silverado comes in second to the F-150 with 61 cubic feet, and the Ram lags behind both of them with just 58. It's the Ford F-150 that really takes the prize here with 66 cubic feet of space in the bed. The three pickups featured here were chosen for their outstanding power and capability for the needs of hard-working individuals. In the end, the 2014 Ford F-150 makes a mighty case for itself in the areas outlined for this comparison. If you'd like to learn more about this truck, including additional trim levels, engine options, and available features and packages, get in touch with the professionals at Scaffidi Motors Ford in Stevens Point, WI.